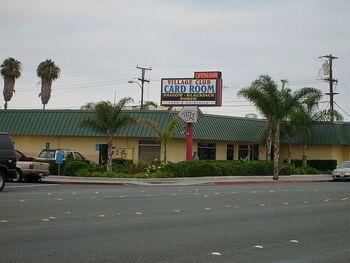 The nearest large card room to San Diego, only about 8 miles south. Take the H Street exit from I-5.
Limit hold 'em: 3/6 Limit with a full kill is running almost 24/7. 8/16 or other higher limits are sometimes available.
No-limit hold 'em: 2/3 NL runs all the time, with a "main game" and 1-3 "must-move" feeder tables. 5/10 NL is often available at peak hours.
Omaha/8: Omaha Hi-Lo is quite popular here and (most of) the dealers are very familiar with it. 3/6 with a full kill is almost always going. 8/16 is usually also running during peak hours. I can't remember if this is full or half-kill.
Wait Time: Comparable with other SD card rooms. Average is maybe 10-15 minutes at busy times and none at other times.
Rake: Standard SoCal rake.
Posting: You do not have to post when sitting down at a table.
Shuffling:
Tournaments
Edit
There is a daily $25 NL rebuy tournament. If you win the Saturday tournament and any of the other tournaments that same week, there is a "Sat. Tournament Bonus" that starts at $1000 and grows every week it isn't won. ($8000 as of 03-14-09) There is also a monthly $50 NL tournament w/ a $5000 guaranteed pool which tends to grow up to $16-19K.
Jackpots and Promotions
Edit
There are bad-beat jackpots in both Hold'em and Omaha. As at other SD $1/hand is taken from the rake and put into the jackpot pool.
Atmosphere
Edit
Lively atmosphere. This has something of a hole-in-the-wall card room atmosphere, nothing like the more upscale casino atmosphere of Barona or Pechanga. People take the "Don't smoke within 20 feet of this door" signs seriously, and there is a constant cloud of smokers beginning 21 feet from the doors--24 hours a day!
There are lots of regulars here who know each other. I have not noticed any correlation between how frequently people play here and how good they are, except perhaps for the dealers who play here. There are quite a few "gamblers" who play here, as well as some very good players.
Tables and Chairs:
Parking: There is $2 "valet" parking in the crowded parking lot behind the card room. It's free at off hours. There is also parking on the street nearby. As mentioned, this is not an upscale casino environment.
Smoking: No smoking allowed in the building under California law.
Service and Comps
Edit
This place serves food 24 hours a day. The Union-Tribune listed it among the top late-night eateries in San Diego a few years ago. There is a fairly good Asian food menu and an OK American food menu. They also hand out free donuts at around 4 or 5 a.m. I think this is every day, although I have only witnessed it on weekends.
As far as I know, no comps are available.
Links and Notes
Edit
An article about San Diego Poker in a local paper mentions the Village Club along with other card rooms and casinos.
Community content is available under
CC-BY-SA
unless otherwise noted.