We're Getting Mutants in the MCU - The Loop
Play Sound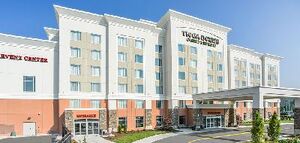 Overview
Tioga Downs is a casino in Nichols, New York about 30 miles west of Binghamton. Besides slot machines, blackjack, and other casino fare, it also has a FanDuel-branded sportsbook and a small poker room.
Sportsbook
Sports betting is a pretty recent arrival at Tioga Downs, launching after the Supreme Court overturned the PASPA law in 2018. With that, each individual U.S. state gained the right to legalize sports betting and introduce regulations for it. New York drafted those regulations, and in July of 2019, the Tioga Downs resort opened its sportsbook in partnership with the FanDuel brand.
Hours, Kiosks, Location
Monday - Friday, 12 p.m. to 10 p.m.
Saturday - Sunday, 10 a.m. to 10 p.m.
There are 14 betting kiosks and 8 betting windows. A total of 27 video displays are also present within the sportsbook with three sports tickers and 12 lounge seats. Seating for more than 50 customers is also present.
The sportsbook is placed near the main entrance to the resort and occupies 2,600 square feet.
Sports and Bets Offered
A good range of popular American sports from NFL, NBA, NHL and MLB is accessible. Tioga Downs FanDuel sportsbook also supports wagers on international sports, including golf, tennis, athletics, cricket, darts and others. Bet types available include Moneylines, Spreads, Parlays, Teasers, and Live Bets as well as an exhaustive menu of props that sometimes exceeds 100 different markets on a single match.
Betting through the IGT kiosks requires minimum wagers of $5 and allows you to place maximums of $3,000 for most options. That is a decent range to select from, although anyone who prefers placing smaller bets of $1 or $2 may find it to be a little out of reach. Of course, high-rollers are not likely to enjoy the $3,000 limit on the machines.
It is also important to know that due to the regulations drafted by the New York Gaming Commission, college sports cannot be wagered on. Therefore, Tioga Downs cannot offer you the chance to bet on St. Johns or Syracuse for example.
Betting Kiosks
For those with a preference for self-service, Tioga Downs has 14 of these available. The machines were created by the IGT PlayDigital brand, and they provide bettors with the chance to view in-the-minute betting prices. They can then proceed with placing bets themselves without the need to visit a window.
Each machine accepts regular U.S. currency notes, which are inserted into the terminal. The user's balance is prominently displayed on the screen. Upon choosing a sport from a menu that runs down the left-hand side of the screen, live and upcoming events will become visible toward the center of the display. Hitting the "More Wagers" button will expand the list of bets shown for that event.
After selecting their bet and the amount they wish to risk, prospective bettors will be told what the potential payout from placing the bet would be if it wins. Pressing "Place Bet" finalizes the selection.
A printed bet slip will then issue from the machine, which should be kept safe to claim any winnings later. One point about sports betting at Tioga Downs is that winners have up to one year to collect their winnings. Furthermore, the bet slip can be mailed in to the sportsbook, which will then send the winner their money through the postal service.
Betting Windows
Those who are more accustomed to booking their bets with a real human can do so at one of the eight betting windows. Pre-printed "Quick Slips" are provided by the establishment, which list out the odds for the most popular sports and matchups. Once completed, this paper is brought along with cash to a window, and the bet is then confirmed by the attendant.
The odds used will be the current lines for the wager in question notwithstanding that the Quick Slip may contain different information that has become obsolete by the time the bet is placed.
Ambiance
Visitors to the Tioga Downs sportsbook often remark upon the feeling of spaciousness they experience. The ceilings are high, and furniture is placed so as to keep the center of the room unobstructed.
The 27 video displays allow fans the opportunity to view the action unfold on the field and root for their picks in real time. This includes a large video wall composed of several screens placed adjacent to each other. There are also three sports tickers that provide the latest scores.
Poker Room
Though the modern incarnation of Tioga Downs dates back to 2006, there was no poker offered at that time. However, when the property was allowed to add casino table games to its menu in 2015, poker also made its appearance.
Hours, Tables, Location
Sunday - Thursday, 9 a.m. - 3 a.m.
Friday - Saturday, 24 hours
The poker room is near the high limit area of the casino floor. There are six tables.
Games
The most frequently seen cash game is low-stakes ($1/$2 or $2/$5) No Limit Texas Hold'em. The room boasts that it can also deal Limit Omaha and Pot Limit Omaha along with Five Card and Seven Card Stud. All of these games can be had in hi-only or in high-lo form. However, most of these variants are never or seldom actually spread.
Tournaments usually run every day for buyins of less than $100, oftentimes less than $50, and they come with correspondingly small guarantees. When there's a tournament running, cash game options are limited as most, if not all, of the tables are demanded to seat tourney players. Later on, as individuals bust out of the tournament, more space becomes available for cash game poker.
Services and Amenities
Visitors have the chance to order food and drink as they like, which can be consumed on the premises, including within the poker room or sportsbook. Various dining establishments operate at Tioga Downs, including Java G's for soups, coffee, sandwiches, and ice cream, P.J. Clarke's for something more filling, Virgil's Real BBQ for grilled items, Coasters Sports Bar for hamburgers, onion rings, and the like, and a host of others.
Smoking: The resort is 100% smoke free! There are designated smoking areas outside for those who smoke.
---
---
Links