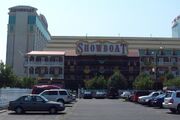 The poker room is on the main casino floor, adjacent to the Boardwalk entrance, the House of Blues Restaurant, Club Worship, and the walkway to Trump's Taj Mahal. The area has good views of the Boardwalk, especially in the summertime. The room has attracted more casual players, and has been busy.
Games spread
Edit
$2/4
$3/6
Interest list for higher limits
$1-2 blinds: $60 min buy-in, $300 max. Always at least one table going, weekends will regularly have 6 to 8 tables.
$2-5 blinds: $100 min buy-in, $500 max. Usually only goes on weekends.
$5-5 blinds: $300 min buy-in, $1000 max. Usually available on Friday nights and weekends. The only casino that offers this unique game.
$5-$10 blinds: $1000 max. Another unique game to Showboat - most 5/10NL games in AC have a $1500 cap or no cap at all. This game usually gets going on Friday and Saturday nights. It seems to be gaining in popularity.
$1/2: $? min, $300 max buy-ins. PLO runs infrequently on Friday and Saturday evenings. Showboat offers "double" comps for this game ($2/hour).
Quality of opposition
Edit
$2/4: very loose, at least 7 to every flop
$3/6: markedly better. Still 5-6 to many flops.
$1/2 NL: weak, easy to make money with a straightforward style
Comps / affinity card
Edit
Showboat and the entire Harrah's network of casinos offers the gold, platinum and diamond Total Rewards comp cards. Aside from earning perks and poker comps ($0.50/hr at $2/4, $1/hr at $3/6 I believe), platinum and diamond card holders receive free parking. Gold card holders pay $5. Regardless, obtaining a comp card is worth it as there is no downside to having one.
At about 11:30 on a Tuesday morning, the line was rather bad because of the just-arrived buses. Later that afternoon it was somewhat better.
Wait times
Edit
Tuesday morning: 15 minutes or less for $2/4.
Miscellaneous
Edit
Harrah's is making a huge effort to turn the Showboat/HOB into their Atlantic City poker destination. In one regard they show a good deal of marketing savvy: they clearly get that their poker clientele is not the same as the hordes swarming off the tour buses to play slots, and they're intent on developing a "user experience" that appeals to somewhat upscale 20- and 30-somethings. In this regard they seem to be aiming to take business from the Borgata more than the Taj.
There are automatic card shufflers on all cash game tables. All tournaments are hand shuffled.
Discussion thread
Edit
---
---
Community content is available under
CC-BY-SA
unless otherwise noted.