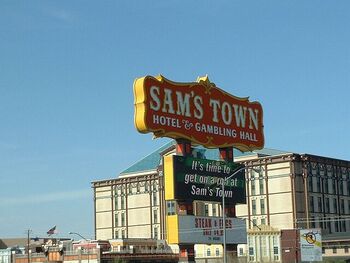 On the Boulder Highway just east of downtown, right off I-515 at Flamingo Rd. It's got a huge lit sign, easily visible for miles.
Games
Limit hold 'em: 2/4 and 3/6 only.
No-limit hold 'em: 1/2 blinds.
Omaha/8: no longer spread.
Seven-card stud: no longer spread.
Game Character: Now full of low-limit tourists and local rocks who are waiting for their wives to finish playing slots.
Rake: Standard Vegas rake: 10% rake, max $4, but taken in 50-cent increments. No flop, no drop.
Posting: New players need not post.
Shuffling: 4 tables shuffled with standard Shufflemaster machines, 5 tables shuffled by hand.
Wait Time: Can be anywhere from 0 to 30 minutes for a seat, depending on time of day and desired game/limit.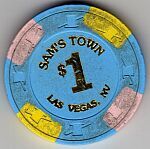 Tournaments
every day, 10:00am, NLHE, $40 + $5. 1x20 rebuy.
every day, 7:00pm, NLHE, $40 + $5. 1x20 rebuy.
every day, 11:00pm, NLHE, $40 + $5. 1x20 rebuy.
Jackpots and Promotions
Standard monte carlo jackpots, but they are different for different games.
Atmosphere
Once one of the cooler (old-timey Western vibe) poker rooms in the area, Sam's Town remodeled it in 2008 and now it's a plain, nondescript poker nook at the far end of the casino. The poker room is nicely removed from the rest of the casino and doesn't get much smoke drift or noise pollution, despite not being a separate room anymore. Right next to the poker room is the non-smoking slots area, as well as the Keno lounge. It's also very conveniently located with respect to the Parking Garage (park in Parking Garage 1 to get closest).
Neighborhood: On the busy Boulder Highway, Sam's Town is a sprawling complex and mini-city of its own, with movie theaters and bowling alleys.
Parking: Plenty of parking in two vast parking garage structures as well as outdoor flat lots.
Tables and Chairs: Standard Vegas 10-player tables have green felt and green vinyl armrests with inset cupholders. Chairs are nicely-padded office-style chairs that are wheeled and swivel.
Smoking: Not allowed in the room, and no significant drift from the rest of the casino occurs.
Service and Comps
Occasional, standard casino cocktail service.
Notes and Links
Visited by MarkT in Nov 2006 and early 2009.
---
---