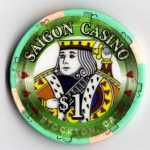 Hours, Tables, Location
Edit
Unsure about the hours, but appears to be open about 3pm to midnight, possibly every day. Phone: 209-462-7578.
3 tables.
146 Market St, Stockton CA. Right in the middle of downtown Stockton, in Chinatown. The street signs here are all in Chinese, so be prepared to figure out where you are through clues in English hanging around.
Limit hold 'em: 3/6, and sometimes 4/8 if there's enough interest.
Game Info
Edit
Rake: $3 for 6+ players, $2 for 4-5 players, $1 for 2-3 players.
Posting:
Shuffling: Hand shuffled. No machines available.
Wait Time
Edit
Can be quite significant, since the number of tables is small.
Tournaments
Edit
Unknown.
Jackpots
Edit
I don't think they have any jackpots.
Atmosphere
Edit
This is a vaguely unsettling card room in a somewhat seamy part of town. It's got lots of space inside, but the security guard hanging around doesn't look very attentive, and the whole place looks worn down and dirty. The one game that was active had people yelling and jumping at it, which made me nervous. Since the wait was going to be 30 minutes, I elected not to play but just to watch for a bit. Then I bought a souvenir chip and got out of there.
It reminded me of watching some of the asian games (double hand poker, or pai gow) in some of the other casinos I've been to, but it was people playing Hold 'Em instead.
Neighborhood: A dirty and seamy part of downtown, where bums are asleep on the sidewalk at all hours. Downright frightening.
Parking: Parking on the street only; pay the parking meter (50 cents an hour).
Tables and Chairs: Standard 9-player tables with worn and dirty felt, and worn out metal-frame chairs.
Service and Comps
Edit
I didn't dare ask.
Visited By Wiki Authors
Edit
Visited by MarkT in Feb 2006.
Community content is available under
CC-BY-SA
unless otherwise noted.