Just south of the corner of Las Vegas Blvd and Sahara Ave. The Sahara is a classic old-time casino, built long before the mega-resorts took up residence on the Strip. It still has a slightly cramped and claustrophobic feel, but actually has one of the larger poker rooms on the Strip and hosts some of the largest low buyin tournaments.
Games
Limit hold 'em: 2/4, sometimes 1/4/4/8. The 2/4 game is unusual in that it has only a single, $2 blind (there is no small blind).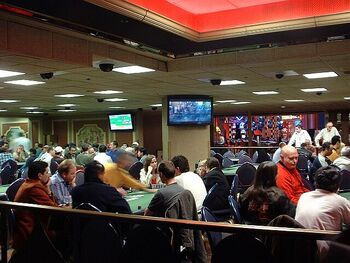 No-limit hold 'em: 1/2 blinds.
7-Stud: Their website claims they spread low limit stud, but it wasn't running the one time I visited. Only spread occasionally.
Game Character: Mostly tourists playing the lowest limit they can find. The tournaments, however, attract a lot of regulars and locals.
Rake: Standard Vegas rake: 10% rake, max $4.
Posting: New players need not post.
Shuffling: All tables shuffled by hand.
Wait Time: Can be anywhere from 0 to 30 minutes or more for a seat. The PA used to announce open seats is very weak and hard to hear, so hang out near the poker room or you won't hear it.
Tournaments
every day, 11am NLHE $40 1x20 rebuy.
every day, 7pm NLHE $40 1x20 rebuy.
every day, 11pm NLHE $40 1x20 rebuy.
Tournaments are big deals here, and routinely attract 100-150 players. Sometimes, they will even have 180 players: 160 seated and 20 alternates. First prize routinely breaks $1500.
Jackpots and Promotions
Bad beat jackpot around $8000 or so: any aces full or better, beaten.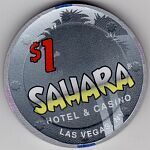 Atmosphere
Kind of a worn-out ambience fills this largish railed-off area in the back of the casino. It's on the side of the casino, but is still right next to prominent banks of slot machines so is still surrounded by the clanging ringing din. The PA system used to announce tournament level changes or seat openings is crackly and old and hard to hear (like a bad public school system). There are no walls separating this area from the rest of the casino.
Neighborhood: Right at the northern edge of the Strip, the Sahara is in a not-too-great neighborhood, across from the "world's largest tacky souvenir store". You might not want to chance walking there on the streets at night.
Parking: Plenty of parking in the parking garage.
Tables and Chairs: Unusual-for-Vegas 9-player tables that they squeeze ten people at for tourneys. Tables are somewhat flimsy, but not broken or anything. Worn, patterned, textured felt is extra-slippery. Black vinyl armrests are in OK condition; slide-in cupholders for drinks. Chairs are kinda weak fixed-leg metal frame chairs with very little padding.
Smoking: Not allowed in the room, but there's lots of drift from the main casino and leaves a definite tinge of smoke throughout the "room".
Service and Comps
Standard casino cocktail service, but not super-frequent.
Notes and Links
Visited by MarkT in Nov 2006.
---
---