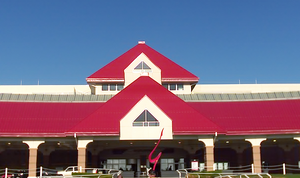 Prairie Meadows is a racetrack and casino in Altoona, Iowa, near Des Moines. It added a pleasant cardroom of about 10 tables in December 2004. The poker room is on the top floor, along with the race betting and away from the noise from slots and other casino games.
Directions
Edit
Prairie Meadows is located at exit 142 of I-80, northeast of Des Moines, just south of the interstate. Signage off the interstate is easy to follow, and the facility is hard to miss. (Map)
Games spread
Edit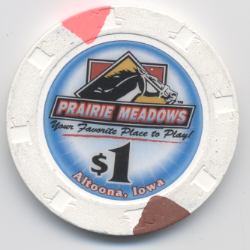 Not all games going; this list was based on the lists of interest maintained by their software. Some weekly games are listed below under Mixed games.
Limit hold 'em
Edit
$3/6 - most constant ($30 min buy-in)
$4/8
$6/12
$10/20
No-limit hold 'em
Edit
Rebuys are allowed up to the min. limit.
$1-2 blinds, $100-$300 buy-in
$2-5 blinds, $200 buy-in (runs occasionally)
Omaha 8/b
Edit
$6/12 with half kill
$10/20
Mixed games
Edit
HOE:
Sunday: 10/20 Limit HOE after tournament
Monday: 10/20 Limit HOE @ 5pm
Thursday: 2/5 POT LIMIT HOE @ 5pm (but was told it normally starts around 1-2pm) with $300 min, no cap
Friday: 15/30 Limit HOE (probably starting in afternoon, a 6/12 O8 with half kill runs earlier in day)
Saturday: Was told a Limit 10-20 HOE runs occasionally
Source: this thread According to the thread, Iowa HOE is actually H=Hold'em, O=Omaha Hi, E=Omaha/8, not the usual Hold'em, Omaha/8, Stud/8.
Pot-limit mixed:
$5/10 - weekly Friday 4 pm CT
Observations
Edit
PhilipR Wednesday 26 April 2006, 16:00 to 18:00 - Everything above was just a list of interest EXCEPT: Two 3/6 limit and two $1-2 NL games were going, and the apparent $30/60 mixed game started $20/40 and three-handed.
PhilipR, 26 April 2006
Discussion threads
Edit
Community content is available under
CC-BY-SA
unless otherwise noted.