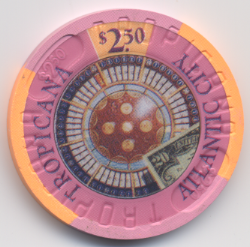 The pink chip game is a semi-legendary game held sporadically at the Tropicana poker room in Atlantic City, and occasionally at other sites. The game limit is generally $7.50/15.00 limit hold 'em and is played with $2.50 chips. These chips are commonly found on blackjack tables, not poker tables, and are colored pink. Much less commonly, $10/20 LHE can also be spread in a 4 chip/8 chip format.
The action in this game is what makes it remarkable. Apparently, people love splashing around with huge piles of pink chips.
Updates and sightings
Edit
As of 28 July 2006, pink chip action appears to be continuous over weekends and fairly strong during the week at the Tropicana.
The Pink Chip game is spread once a year during ATLARGE for a period of three days at Donald Trump's Taj Mahal, also in Atlantic City. Additionally Pink Chip games run regularly in Tunica, sometimes featuring a rock - one big bet held together by rubber bands. When the holder of the rock is under the gun, the rock is entered into play as a forced live straddle.
Discussion threads
Edit
Community content is available under
CC-BY-SA
unless otherwise noted.