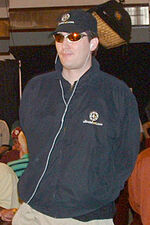 Phil Hellmuth, Jr. won the World Series of Poker main event at the age of 24 in 1989, after going heads-up with two-time winner Johnny Chan, who was attempting an unprecedented third straight championship. Phil has never won the main event again, but has won a number of other WSOP tournaments. As of 2008, he currently holds 11 WSOP bracelets (a record) and has had 45 cash finishes in WSOP events. He also won the first-ever National Heads-Up Poker Championship, broadcast in 2005 by NBC.
Strengths
He's undeniably a great player and may be one of the very best. In Play Poker Like the Pros Hellmuth credits an uncommon ability to read opponents for much of his success. Notwithstanding his reputation for arrogance, he does possess a tendency to self-criticize.
Weaknesses
However, he has a propensity to melt down emotionally and become verbally abusive when luck goes against him, and has been known to lose matches after tilting badly. Like many players who are successful in their reliance on psychology and reads, he has a tendency to overestimate his psychological mastery and make some decisions that are unwarranted by the cards.
Quotes
"If it wasn't for luck, I would win every one."
"I can dodge bullets, baby!"
Hellmuth in the media
Phil is currently (2006) the "poker expert host" on Bravo's Celebrity Poker Showdown.
His middle initial is J. Reportedly, his middle name is "Jerome".