Jurassic World: Dominion Dominates Fandom Wikis - The Loop
Play Sound
Hours, Tables, Location
VISITED BY DAVE C, DEC 26, 2008 NO LONGER OFFERING POKER Open 24/7.
8 tables.
In the middle of the Las Vegas Strip, across the street from Bellagio.
Games and Info
Limit hold 'em: $3/$6. They claim to have 4/8, 5/10, and 10/20, but there were no games running, and no interest list, on the Sunday evening I was there.
$100-$200 buyin, $1/$2 blinds.
$200-$500 buyin, $2/$5 blinds.
Posting: Unknown, but probably not required to post.
Shuffling: All tables shuffled by hand.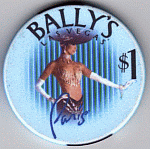 Wait Time
With so few tables, wait times can be highly variable, from 0 minutes to 30 minutes or more, depending on limit and demand.
They have a really nice computerized board system managed by the brush which combines listings for the tables here and those at Bally's. You can sign up here at Paris for tables at Bally's, and vice versa; more importantly, you can see what games are running at the other casino and decide if you want to walk the three minutes it'll take you to get to the other casino's poker room (Paris and Bally's are connected). The computerized board also tracks if there is interest in a game that isn't running yet; when enough interest is shown, they can open a table for it.
Tournaments and Jackpots
Every day, 3am (middle of the night): NLHE $50+$5 tournament, 1x$5 ao.
Every day, 9:30am: NLHE $60+$5 tournament, 1x$5 ao.
Every day, 7pm: PLO (Pot Limit Omaha) $50+$10 tournament, 1x$5 ao.
I don't know if they have jackpots.
Atmosphere
In the center of Paris' internal "town square", this is a gorgeous place to play poker. With the simulated outdoor setting, the slightly dim lighting evoking a dusky evening, but bright tiny spotlights shining on the tables and illuminating your cards, it makes you feel like you're on TV.
Smoking: Non-smoking, but it's in that big internal "outdoor" square, so some smoke drift from the nearby slot machines and bar is inveitable.
Tables and Chairs: Standard Vegas 10-player tables with cup holders built into the foam padding. Standard fixed-leg metal padded chairs.
Service and Comps
I didn't try the service or comps.
Links
Visited by MarkT in Mar 2006.
---
---