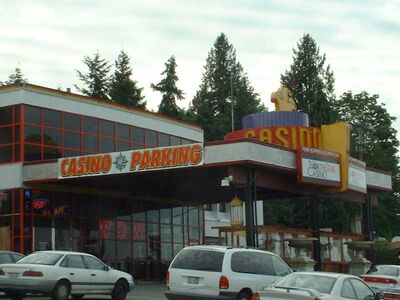 | | |
| --- | --- |
| Hours | 2pm to 4am daily (until 6am on Fri & Sat); nobody really plays until the 2:30 tourney starts, though. (NOTE: On a recent Sunday (April 2007) at 4 PM, the doors were locked and the lights were off, parking lot empty.) |
| # Tables | 3 |
| Address | 15221 International Blvd, Seatac WA |
| Region | Seattle, Washington, USA |
| Phone | 206-444-4660 |
| Website | none |
NorthStar Casino in Seatac is located within a mile of Seatac Airport (Seattle/Tacoma airport) in Washington in a strip shopping center.
Limit hold 'em: 3/6; 4/8 and maybe 6/12 if there is demand. As of November, 2006, a 2/8 spread limit game was in effect.
Rake: The rake is 10% to max $3 + jackpot rake of $1 or $2 depending on pot size.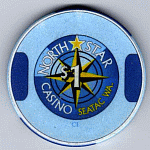 Blinds on 3/6 the blinds are 1/3. May play without the small blind if the table is shorthanded, at the dealer's discretion. 2/8 spread has $1 and 2 blinds, or a single $2 when short.
Posting: New players need not post.
Shuffling: Hand shuffled.
Game Character: Generally loose and passive players at the lower limits.
Wait Time: NorthStar seems to have gone downhill a bit as a poker destination. Even with only three tables, they were struggling to fill even one early on a Saturday evening. Apparently it gets busier on Friday and Saturday nights.
Tournaments
Edit
Every day 2:30, NLHE $30+$5, 1x$30rb. (As of November, 2006, floor reports that tourneys are only scheduled for Sundays at 2:30, and that other days are discretionary.)
Jackpots and Promotions
Edit
Standard Washington Monte Carlo jackpots, about 100-300 for each. Royal flush was at $5810 in early June.
High Hand jackpot pays $300 for the high hand (JJJ22 or better) between 2pm-6pm, 6pm-10pm, and 2am-6am. (No high hand between 10pm and 2am). Must be present at end of period to win. (As of November, 2006, HH did not appear to be in effect.)
"Aces Cracked" progressive pays for aces cracked by full house or better.
Atmosphere
Edit
The place is a combination dance hall, sports bar, and card casino. It's laid out like it's an adult Chuck E Cheese, with oversized colorful signs leading you to the area you want, but the poker area is a strange sort of collection of three tables just sitting off to one side of the rest of the card game tables. I imagine that on Friday and Saturday nights, the joint might be hopping, but on a Saturday afternoon it was mostly deserted.
The staff will often join in to fill out a game. In fact, three of seven players when one correspondent arrived were dealers or floor personnel (on and off duty).
Neighborhood: At a major intersection, in a strip shopping center, with a big lighted sign on the main street.
Parking: Quite a bit of parking in the shopping center lot, which doesn't seem particularly full.
Tables and Chairs: 9-seat tables with nice felt and nice vinyl padding on edge. Clean commit line. The player chairs are super-comfortable fully-adjustable office-style chairs.
Service and Comps
Edit
Fast and frequent, service includes free sodas (small, though) and orders from the bar. Comps available for bar food after 3-4 hours of play. The floorman will often spring for a few pizzas which get delivered from the bar and thrown under a hot lamp next to the poker tables for everyone to share. The food, though modest, is certainly above average for Washington state mini-casinos.
Links and Notes
Edit
Community content is available under
CC-BY-SA
unless otherwise noted.