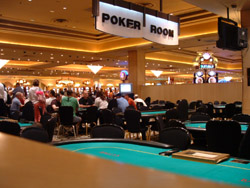 What's New

Edit
PokerWiki is a home for reference material for all aspects of poker, including games at live brick-and-mortar casinos, online poker, and home games. We'll also maintain reference pages for strategy that go deeper than Wikipedia:Poker strategy, as well as related topics like bankroll management, game selection, and other things that haven't occurred to someone to add here yet.
The Community Portal is a good place to get started; although it's still under development, it will point you to suggestions of how to get involved in the PokerWiki community. Why not comment on our icon image in the upper-left corner, at Image_talk:Wiki.png? Or if there's any poker-related topic where you'd like to start collecting reference info, just be bold and start editing.
Why a wiki?
Edit
Confused as to the purpose of this site? Wondering why we need another poker site? See PokerWiki:Why a wiki?
casino reviews | online casinos | bankroll | books | limit hold 'em | no-limit | omaha | 7-stud | razz | 5-draw | sngs | definitions | history
Community content is available under
CC-BY-SA
unless otherwise noted.