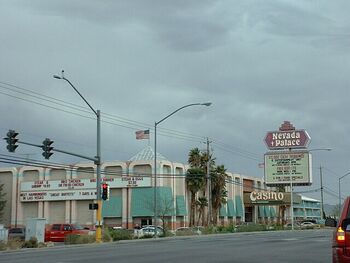 Just south of Sam's Town on Boulder Highway. An unbelievably smoky casino.
Games
None. Literally. The only use these poker tables get is the daily tournament.
Tournaments
every day, 10am NLHE $15+5. Top 2 get paid. Maximum 28 players. Signups start at 9am.
Jackpots and Promotions
None.
Atmosphere
This is a weird poker place. It's off in a sort of back room/hallway in the back of the casino, behind the stairs that go up (to a bar or restaurant?). When the daily tournament isn't running, the entire poker area is empty. Nobody is there, no management, dealers, players, nothing.
Even though they are listed in Poker Player Newspaper as having a tournament, that's apparently all they have. A tournament. It's unclear why they do, since it's in general a low-rent casino (dollar blackjack! dollar craps!).
The tables are worn, old, stained, and rickety. The chairs are a random assortment of barely-holding-together seats that have little padding and look uncomfortable as all get out. All tables are hand-shuffled (of course).
Neighborhood: On Boulder Highway near Eastside Cannery, it's a busy commercial area.
Parking: Plenty of parking.
Smoking: Allowed everywhere in the casino, and in the poker room. It's quite thick.
Service and Comps
None.
Notes and Links
Visited by MarkT in Mar 2007.
---
---