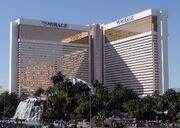 Early in the movie Rounders Matt Damon's character, Mike McDermott, refers to the Mirage poker room as "the center of the poker universe". When Steve Wynn opened the Mirage, the poker room was where all the big Vegas poker action was to be found.
The Bellagio has overshadowed the Mirage but it still remains a very nice and well-run poker venue in Las Vegas. There is always action at limits ranging from 3/6 to 40/80 or higher. You'll find 7 Card Stud, Omaha 8 or better and Texas Hold'em being spread on the 30+ tables. There is always a core of Vegas regulars with plenty of tourists rounding out the games.
The poker room offers a special hotel room rate you can receive if you play a number of hours. Call the poker room number and talk to the manager about rates and required hours of play.
Beverages are, of course, free for players. Unfortunately, the service is terribly slow, so you might want to order two when you finally find a waitress. Coffee is served in glasses which I've never much liked. There was a time when you could ask for a mug, but on my last visit I was told they didn't have mugs anymore. The strawberry julius is very good and the orange juice tastes nice and fresh. Food is not served in the room, but you can take long breaks to grab a bite away from the table. Sandwiches and light pastries are often brought in for players around 5 in the morning.
Restrooms are conveniently located next to the poker room and also in the nearby sports book.
No smoking is allowed in the room and the blackjack pit nearby was also non-smoking on my last visit, though smoke can get into the room since there are only half-walls separating it from the rest of the casino.
Chip runners are available, and dealers keep their own tips.
During peak periods two brushes keep lists for games. The front brush will have lists for the lower-limit games and the back brush will have the list for higher games. If you don't see the back brush, ask the front brush who to talk to. The staff are generally very friendly and helpful.
The Mirage poker room may no longer be the center of it all, but it still remains a great room with plenty of action and without the ridiculously long waiting lists you'll find at the Bellagio poker room.
Original review by SheridanCat.
Update: The Mirage has brought in new chairs and the hold'em games have become 9-handed. The Omaha/8 game still runs 10-handed for some reason. Visited by SheridanCat in January, 2007.
---
$1 Chips
| | | | |
| --- | --- | --- | --- |
| | | | |
| 1st Issue $1 Chip | 2nd Issue $1 Chip | 3rd Issue $1 Chip | Poker Room $1 Chip |
---
---
---