Games & Limits
Limit Hold'em: 2/4, 3/6, 4/8 w/half-kill, sometimes higher.
No-Limit Hold'em: 1/2, 2/5, 5/5, 5/10.
Tournaments
There are tournaments throughout the week. Contact the room for details.
General
The MGM Grand's poker room is one of the truly serious new poker rooms on the strip. The room itself it separated from the main casino and is ringed by a low wall. When the night club is not in full swing, the room is quiet. When the night club is going, you better like dance music.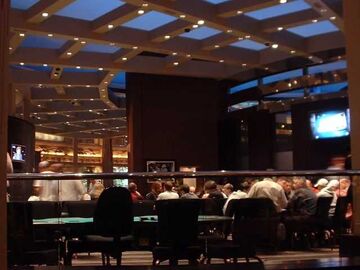 Each table is equipped with a system of electronic buttons the dealers use to notify the floor of open seats, requests for players checks, etc. This lends to the peaceful nature of the room because there isn't a great deal of shouting as there is in most rooms.
You will find two podiums where the computerized lists are maintained. One is for limit games and the other is for no-limit games. You can request a seat for all games at either podium. Limit and no-limit games appear together on the monitors throughout the room.
Drink service is prompt.
---
---