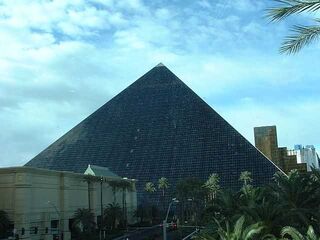 Hours, Tables, Location
Open 24/7.
8 tables.
South end of the Las Vegas Strip, between Excalibur and Mandalay Bay.
Games and Info
Limit hold 'em: 2/4 and 4/8.
No-limit hold 'em: 50-200 buy-in with 1/2 blinds, also 2-5 no-limit (but rarely spread).
The rake is 0-10% (no flop, no drop) up to $4 on all games. $1 on $10 for jackpot/high hand bonus.
Posting: New players need not post.
Shuffling: Mostly shuffled by hand, but some tables have Shufflemaster machines.
Room Info
The new poker room at Luxor is now located across from the race and sports book.
It has 8 poker tables and plenty of flat screen TVs all around the room. They spread almost exclusively 2/4 limit (though 4/8 and higher are offered, as well as 7 card stud, if there is interest), and a $50-200 buy-in no limit game (max buy-in is actually $399, as you can rebuy another $200 once you drop below $1 of your original $200 buy-in). The no limit game is the most popular and a game is usually going 24/7.
There is a $150 per hour high hand bonus, that goes 24/7, every day of the week. Any full house or higher qualifies. ($20 in pot, both cards must play). They give away $3,600 a day, guaranteed, with this bonus. There is a persistent $1000 jackpot, simply aces full beat.
The room offers multiple tournaments, from 9 am, 12 noon, 4 pm, 8pm and midnight (all ranging from $25 to $55 buy-in). 15 min rounds, between 1200 and 2000 in chips depending on tournament. They also offer multiple $50 buy-in sit 'n gos that go all day.
The room brings in all sorts of players, but mostly the tourist just looking for a good time (with a few local grinders to add to the mix). The action is often loose and wild in both the limit and no-limit games.
While small, the room is often busy, lively and somewhat "old school". The players are friendly, and the dealers are all of excellent quality and most have been with the Luxor for five to ten years. Staff is great about starting new games, keeping the waiting list short and dropping rake when 7 or fewer players are seated.
It is also one of the longest persistently-running poker rooms in Las Vegas, open since 1993.
Service and Comps
Standard Vegas service. $4 food comp for 4 hours of play.
Links
Visited by MarkT in Mar 2006.
---
---