We're Getting Mutants in the MCU - The Loop
Play Sound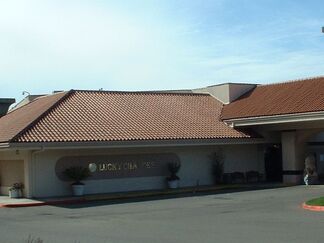 Hours, Tables, Location
Open 24/7. 23 poker tables (plus a dozen or so tables of pseudo-blackjack, pai-gow, etc).
1700 Hillside Blvd, Colma CA 94014. Nestled in the foothills just south of San Francisco. Not the easiest place to get to, but not hard. Not visible from the freeway, though, and the road twists as you get close, so pay attention!
Colma is the "cemetery capital of the Bay". The three industries are cemeteries, Lucky Chances, and big box retail. Lucky Chances is one of the largest and nicest card rooms in the Bay Area, and probably the closest to San Francisco (though the Oaks is pretty darn close, too).
Phone: 650-758-2237
Games
Limit hold 'em: 3/6, 6/12, 9/18 with a kill (to 15/30). Higher limits no longer seem to go, although at one time there was 20/40 and occasionally 40/80.
No-limit/spread-limit hold 'em: 1/1/2 SL, $40-$200 buyin. 2/3/5 SL, $200-uncapped buyin, 2/3/5 NL, $200-$1000 buyin, 10-10-20 NL, $2000-uncapped buyin. Max bet at spread limit games is $200 (spreads are therefore 4-200 and 10-200). The three amounts in the listing are the blind amounts (first amount is paid by the button, second by the small blind, third by the big blind). The big blind is still not in for a full bet, though; anyone who opens must put in a bet of double the big blind amount, minimum. The 2/3/5 NL game is new as of December 2007. For the SL games, standard rake is taken each hand. In both NL games a time charge of $12 per 40 minutes is collected. The 10-10-20 game only runs Monday, Wednesday, and Friday.
Omaha/8: 4/8 with half kill. 10/20 half-kill runs on Tuesdays. Pot-limit Omaha was listed on the board.
7-Stud: 2/4, and sometimes 3/6 if demand warrants. Played with $1 ante and $1 bringin.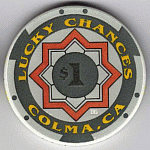 Game Info
Rake for 3/6 and 6/12 is $3+$1 jackpot for 7-9 players, $2+$1 for 6 players, $1+$1 for 5 or fewer players, $1 if no flop. For 9/18 it is $4+$1 jackpot for 7-9 players, $2+$1 for 6 players, $1=$1 for 5 or fewer players, $1 if no flop For 1-1-2 SL, $1+$1 jackpot if no flop, $4+$1 jackpot with a flop. For 2-3-5 SL, the rake is the same as 1-1-2 (used to be $7 every half hour time charge, but sometime in 2006 they went to raking rather than time charge for the 2-3-5 game). For 2-3-5 NL and 10-10-20 NL, $12 time per 40 minute down.
Rake is taken directly out of the pot after the flop.
Shuffling: Standard ShuffleMaster shuffling machines on many tables.
In the no-limit game, look out for the unusual "kill" rule, which will seem bizarre if you're not used to Northern California no-limit rules. Any player (except the small blind and button) may post an additonal blind bet ($10 in the 2/3/5 games, or $40 in the 10/10/20 game). In return, the stakes are doubled: $20 to go (2/3/5) or $80 (10/10/20), and that player, the killer, acts last before the flop. You will be required to wait for the big blind, or kill, in order to enter the game or make up the blinds.
Wait Time
There is almost always a list on the board; but with this many tables, wait times average around 15 minutes or so.
Tournaments
9:30 AM EVERY DAY. All are spread limit (the Bay Area version of NLHE). Buyin and rebuys vary but they are between $50 and $100. See theiir wbsite http://www.luckychances.com/? for more details.
Occasional very large tournaments (e.g. the $60,000 Double Play Tournament on Feb 26 2006), and occasional single-table satellites to win entries into larger tournaments.
Jackpots and other Promotions
Standard bad beat jackpots:
7-Stud jackpot: any quads or better beaten. $7400 as of Feb 12 2006. Jackpot is doubled between 12n Thu and 6am Fri.
Omaha/8 jackpot: quad 8's or better beaten. $11600 as of Feb 12 2006. Jackpot is doubled between 12n Tue at 6am Wed.
Hold 'em jackpot: any quads or better beaten. Both hole cards must play for both high and low. $75000 as of Feb 12 2006.
Royal Flush Jackpot:
Win with any royal flush in LHE, NLHE, Omaha, or Stud and win an additional $500. Only one hole card needs to play in LHE and NLHE games.
Other promotions (all subject to change at the casino's discretion):
Aces Cracked Wins A Rack
From 6am-9am daily, lose with pocket aces in Hold 'Em (must showdown), and win a rack of the chips in use at the table (e.g. $1 chips for 3/6, $2 chips for 6/12).
Lucky Money Monday: Relatively highish hands in the games (e.g. Jacks full in Hold 'Em and Stud, Aces full of Jacks in Omaha) win an entry in Monday night's drawing. Drawings held at 7pm, 9pm, 11pm - one winner at each drawing wins $500. Must be present to win.
Atmosphere
Large open room in an upscale standalone building. They try to convey some fanciness with nicely-dressed staff and surroundings that make it look like you're in a hotel of some sort. They've even got a gift shop.
Neighborhood: Literally across the street from a large fancy cemetery (then again, every place in Colma is across the street from a cemetery). Remote, but lovely. Up on a hillside. Nobody walks up here; no sidewalks.
Parking: An underground parking garage with an upper floor together hold about 100 spaces or so. Free valet parking available on lower underground floor. There is also a parking lot across the street.
Tables and Chairs: Standard 9-player tables. Felt is nice, soft felt with good padding. Player chairs are standard metal-frame chairs with nice padding; no wheels.
Service and Comps
Food service is prompt and the menu is large. The quality seems to generally be good. Dining is allowed at the tables. Prices seem to be slightly higher here than other area card rooms. Servers occasionally bring around free sandwiches for seated players.
Links
Discussion threads and articles
I Lived in San Francisco love Lucky Chances won plenty at the 1-2 NLH tables Hint/Tip from the city Take BART train to Colma they run a van every 15 min or Half hour no diving no fuss
I visited December 2006 to play 10/20 Omaha/8. A decent game; although it nearly broke earlier in the day, there was a full table at 9:30 pm when I got there, and the table was full again at 12:30 am when I left. The game was hand-shuffled and had $4 rake + $1 jackpot drop when full. Rake dropped to $3 at 7 players. Two tables of 2-3-5 SLHE were running the whole time. An acquaintance who plays in the area regularly says that the SLHE is popular enough that it may still run even when Lucky Chances is allowed to offer NLHE again this January.
MarkT visited in Feb 2006.
PhilipR visited in Nov 2004.
SheridanCat visited in June, 2007.
Played twice in late 2007. 1/1/2 and 2/3/5 SL are running 24/7 on the weekends. Waits are short for 1/1/2 but slightly longer for 2/3/5 as there's often only 1-2 tables running. Action varies widely at the 1/1/2 games; some are limpfests, others rarely make it to a flop w/o a +$100 pot. Many regular calling stations if you're observant. Service is good but gets a little slow after hours. All-in-all a great place to get your feet wet if you're new to SL and the jackpot is always $50k+.
---
---