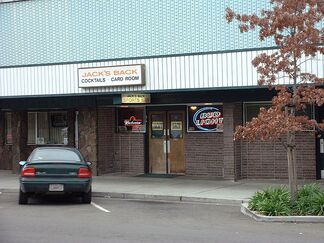 Hours, Tables, Location
Edit
Open in the evenings, probably every day. They say they start playing poker around 6pm every day, but the bar is open much earlier than that.
2 tables. Possibly only one is used?
29 North Sacramento St, Lodi CA. On one of the main streets in Lodi. Lodi's a pretty burnt out town, but even so, this is hard to miss.
Lowball: I didn't dare to ask what limits they had. They were hours away from starting anyway.
Note(by pekarinn2): About 2 years ago I had a chance to talk to the owner(Jack), He definitely would like to spread Hold'em, but from what he mentioned this needs to be passed by some committee in Lodi, and there are some very "conservative" members in the committee, so ........ hopefully something has already changed now
Game Info
Edit
No poker was being played, so I couldn't rate the game. The poker tables were closed, and only a dozen regulars were sitting, drinking the afternoon away inside the bar.
Wait Time
Edit
Unknown.
Tournaments
Edit
None.
Jackpots and Promotions
Edit
None.
Atmosphere
Edit
Dark neighborhood bar that apparently still spreads a lowball game for oldtimer regulars who have been playing poker there for years, since long before the legalization of Hold 'em. Looked dingy and cluttered, like you might expect. A bit spooky, frankly.
Neighborhood: You know the CCR song "Lodi"? If you've seen the town, now you know why the chorus is "Oh, Lord, stuck in Lodi again". This town has burnt up and blown away. Dried out old abandoned buildings are scattered around downtown. Once-bustling streets now are literally completely empty, with an occasional piece of litter blowing down them, like in an old west movie. Ragamuffins run down the sidewalks and beat each other up. This is not a friendly town, it is a downtrodden and bedraggled place. (This is an outright fabrication)
I think Jack's Back is the only open business on its whole block.
Parking: Free parking on the street. No other businesses to go to, so plenty of parking.
Service and Comps
Edit
Well, you're in a bar for Pete's sake.
Don't go here unless you're desperate to play Lowball. Try the Cameo Club in Stockton, about 15 miles away, or the Capitol Casino in Sacramento, about 30 miles away.
Visited By Wiki Authors
Edit
Visited by MarkT in Feb 2006.
Community content is available under
CC-BY-SA
unless otherwise noted.