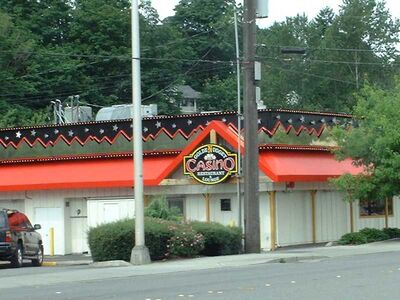 The Golden Nugget in Tukwila is one of a chain of mini-casinos in Washington. The chain is owned by a corporation and includes the Riverside Casino in Tukwila, the Golden Nugget in Shoreline, and the Royal Casino in Everett.
Limit hold 'em: 3/6 , 4/8 if there is demand.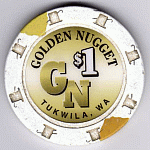 Rake: The rake is 10% to max $3 + jackpot rake of $1 or $2 depending on pot size.
Blinds on 3/6 the blinds are 1/3.
Posting: New players need not post.
Shuffling: 2 tables are hand shuffled, 2 have Shufflemaster shuffling machines.
Game Character: Extremely loose and passive, but some loose agressive players hang out there too. Generaly poor players.
Wait Time: Can be quite long, even with the room only half full. Waits of 30 minutes or more are not uncommon.
Tournaments
Edit
They have daily tournaments at 12:00 noon and 6:30, usually 20-30 runners. Entry fee is around $30.
Jackpots and Promotions
Edit
Standard Washington Monte Carlo jackpots, about 100-300 for each.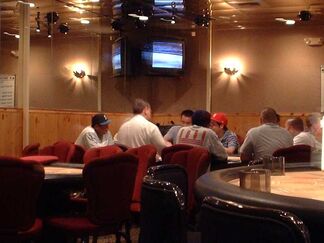 Atmosphere
Edit
A smallish mini-casino set in a cluster of them, the Golden Nugget is generally undistinguished. The poker "room" is a separate area in the back room where a handful of poker tables have been set up. The solid-mirror walls attempt to provide the illusion of the room being bigger than it is, and work to some degree, but also just generally add to the slightly odd feel of the room. This is a pleasant enough place to pass the time, but wouldn't really be a true poker destination, to my mind.
Neighborhood: On a businessy area of a busy street, relatively safe all around. The Golden Nugget is in a cluster of four mini-casinos, including the Riverside Casino. The other two mini-casinos don't offer poker, but do have the standard other Washington card games: blackjack, four-card poker, etc.
Parking: A decent amount of parking in back and on the side, but only about 30 spaces. This is a pretty small casino, though, so 30 should be plenty.
Tables and Chairs:
Service and Comps
Edit
Drinks and food available; sodas are a nice size and are free.
Links and Notes
Edit
Nearest competitor is Riverside Casino across the street.
Visited by MarkT in Jun 2006.
Community content is available under
CC-BY-SA
unless otherwise noted.