Jurassic World: Dominion Dominates Fandom Wikis - The Loop
Play Sound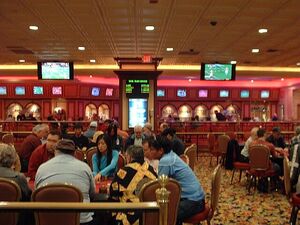 On Flamingo about six blocks west of the Strip, Gold Coast is one of the Coast Casinos chain. It's right next door to the Rio.
Games
Limit hold 'em: 4/8 with a half kill and 2/4. Bet and four raises is the cap (five bets). No limit is not regularly spread but will go if there is enough interest.
Game Character: Mostly regular locals, mostly Asians, the players while somewhat practiced are also somewhat maniacal, though there is a tricky player or two who are in the mix.
Rake: 10% rake, max $3. Plus an extra dollar for jackpot rake.
Posting: New players need not post.
Shuffling: Auto shufflers.
Wait Time: Can be anywhere from 0 to 60 minutes or more for a seat.
Tournaments
every day, 10am $15+5+2 L/NLHE (first hour is limit, then switches to no-limit) no rebuys.
20 minute rounds for tourneys.
Jackpots and Promotions
Standard monte carlo jackpots.
Atmosphere
Not super-large, and not actually a room, the Poker Room at the Gold Coast is a separate railed-off area near the keno bar, next to a bank of slot machines. Six 32" televisions hang from the ceiling to distract you from the view of the rest of the casino.
Poker seems to almost be an afterthought at this casino, but it's trying to get a foothold. The room is not too busy, even at normal times, but there are usually 1-2 tables running.
Neighborhood: Off strip next to many other off-strip casinos. OK neighborhood.
Parking: Plenty of parking in a huge multi-level structure. Unfortunately, the parking is on the east side of the building, and the poker room is on the far west side of the building. Walk, walk, walk.
Tables and Chairs: Standard Vegas 10-player tables. Felt is nice, soft red felt with good padding. Black vinyl armrests with slide-in cupholders. Clean commit line. Player chairs are metal-frame fixed-leg chairs with wheels, and are very plushly padded.
Smoking: No smoking in the "room", but it's so close to the slots and sportsbook that there is quite a bit of smoke drift.
Service and Comps
Unknown. At least standard casino cocktail service.
Notes and Links
Visited by MarkT in Nov 2006.
---
---
External References