The Company
Global Poker is an Australia-based online poker site that opened in February 2016. It is owned by VGW Holdings, which also operates Chumba Casino, an online social casino. VGW holds class 1 and class 3 licenses from the Malta Gaming Authority.[1] For the quarter that ended Sept. 30, 2017, Global Poker produced revenues of $33.7 million.[2]
Sweepstakes Business Model
Global Poker allows customers to purchase Gold Chips, a type of virtual currency. These Gold Chips cannot be redeemed; they are strictly for playing purposes. However, users also receive $weeps Cash with their Gold Chips purchases, and these $weeps can be cashed out from the site at a ratio of 1:1 with the U.S. dollar. It's also possible to obtain a small amount of $weeps Cash for free by sending envelopes to the company via mail.[3]
Global Poker believes that this arrangement allows it to comply with sweepstakes laws in the United States and Canada and thus be exempt from the provisions of anti-gambling statutes. Only individuals from these two countries are permitted to trade their $weeps Cash in for dollars. Residents of most other countries are welcome to play at Global Poker, but they cannot ever request a payout of real money. All deposits and withdrawals used to be conducted through PayPal until the end of June 2018 when the company switched to using Worldpay for payment processing. Customers had only a few days' notice of this change in cashier method.
Legality
Global Poker vehemently claims that it is legal. These declarations are made by numerous company employees on a sponsored forum at TwoPlusTwo.com. Furthermore, the general manager of Global Poker, Jonas Odman, publicly stated at the London Affiliate Conference in February 2018 that both PayPal and FaceBook lawyers had thoroughly vetted his company and business model and subsequently approved of them.
Others take issue with Jonas's claims. In the same conference, Mr. Odman also stated that 80% of the gaming on Global Poker is in the form of Sweeps Cash gambling.[4] This essentially means that 80% of the business taking place is not the "play money" model vetted by attorneys, but a disguised form of real money online poker. PayPal does not allow its services to be used for online gambling within the United States of America in order to comply with the UIGEA, and some believe that this is the true reason that the poker room's relationship with the e-wallet provider was severed.[5]
Software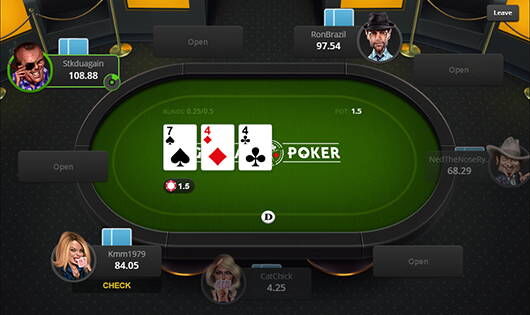 The Global Poker software runs in users' web browsers, so it's compatible with traditional computers as well as mobile devices. There is no downloadable poker client offered. Players can open multiple tables at the same time and can choose whether to have each table open in a separate browser window or have all of them appear within a single window. The poker software in use at Global Poker was developed by Swedish firm Cubeia.[6]
Games Offered
Global Poker offers no-limit Texas Hold'em, limit Texas Hold'em and pot-limit Omaha ring games. Sit & Gos and multi-table tournaments exist in no-limit Texas hold'em and pot-limit Omaha forms. Most of these games require either Gold Coins or $weeps Cash to buy into. To change the view between these two buy-in options, players click a "Switch Currencies" button in the poker lobby.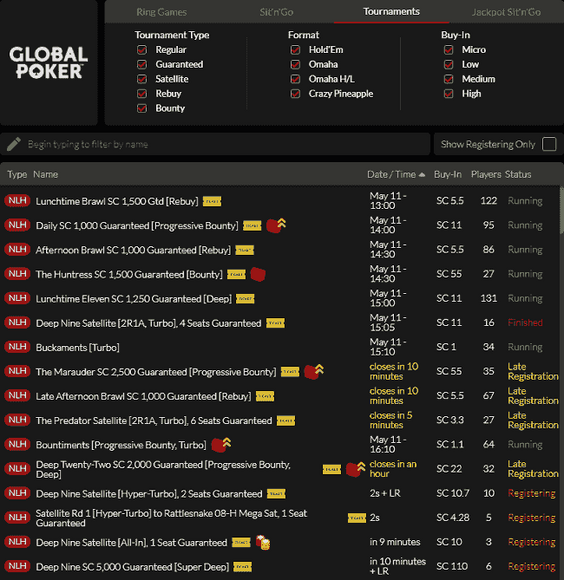 Freeroll tournaments can be entered without spending either Gold Coins or $weeps Cash. Some of them are open to everyone, but others have entry requirements, such as having to play a certain number of hands within a stated time frame to qualify.
In 2019, a new type of "lottery" styled Sit & Go tournament was introduced called "Jackpot Sit'N'Go". These fast pasted single table tournaments pit 3 players against each other with a randomized prize pool anywhere from twice the buy in amount up to ten thousand times the buy in price.
Achievements
Global Poker has created a list of achievements for users to try to complete, like "Epic $weeps Player," which requires 100,000 hands played at $weeps Cash tables, and "Action Junkie Lvl 1," which is awarded after seeing 10 flops in pot limit Omaha ring games. Each achievement is listed with a progress bar beneath it, which fills up as the player approaches the goal.
Prohibited Software
In order to maintain an environment friendly to recreational poker players, the company expressly forbids the use of many popular software packages such as Hold'em Manager, Poker Tracker, DriveHUD, and other heads up display poker software packages.
NASCAR Sponsorship
In March 2019, Chip Ganassi Racing announced a partnership with Global Poker.[7] The online poker site's logo was prominently featured on Kurt Busch's No. 1 Chevrolet Camaro ZL1, which races in the Monster Energy NASCAR Cup Series.[8] This is one of the only instances of an online poker site having a sponsorship deal in place with a major American sport. On race days when it's the Global Poker car, Global Poker runs the Kurt Busch Signature Tournament Series, which awards extra $weeps Cash and a physical piece of Kurt Busch's vehicle to winners.[9]
Tournament Series
Besides the normal weekly tournaments that Global Poker runs, the poker site has also hosted special series, like the Eagle Cup and the Grizzly Games.[10] These series consist of dozens of poker events scheduled over the course of several weeks. They sometimes pay out more than $1 million in guaranteed $weeps Cash prizes, and there are also guaranteed Gold Chip games as well. Leaderboards reward those who obtain the best results across an entire series.
External References