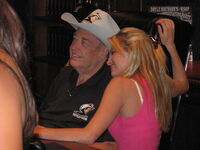 Doyle Brunson has been called the Godfather of Poker due to his iconic status in the history of the game. Brunson, born in Texas in 1933, is arguably the man most identified with the game of Texas Hold 'em during its long adolesence and, like a proud father, has been pleased to watch its sudden surge of popularity due to the poker boom. He continues playing to this day and is still considered one of the top players in the game. He picked up yet another World Series of Poker bracelet in 2005, giving him a total of 10, a number matched only by Johnny Chan, and, in 2007, surpassed by Phil Hellmuth (11).
One of the major achievements in Brunson's career was the authoring of the seminal poker book Super/System, sometimes called the Poker Bible. Written in 1978, it was the first serious examination of poker strategy written by a successful insider (indeed, co-written by a number of successful players who Brunson talked into writing individual chapters) and it provided the first steps of moving the game from smoky backrooms of bars into the front rooms of casinos with its analysis and discussion of strategy, a topic that had previously not been broached in print. He has subsequently written and edited a second version, Super/System II, with updated information and chapters on newer variants of the game.
Another of his amazing achievements is being only one of three people to have won back-to-back championships in the Main Event at the World Series of Poker, in 1976 and 1977. Even more remarkably, he won the final hand of both those tournaments holding the same two hole cards in both years: ten-deuce offsuit, a hand which has subsequently been named in his honor.
Doyle Brunson is the father of professional poker player and fellow champion Todd Brunson.
Doyle picked up the nickname "Texas Dolly" in the 70's when a newspaper reporter covering a tournament in which Doyle was playing heard Jimmy the Greek mispronounce Doyle's name. Doyle wears a cowboy hat, usually white, at the poker table to emphasize his Texas roots.
Links