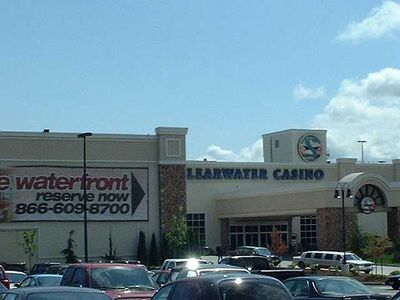 A large Indian casino that has just expanded to include a full-service resort. Located just outside Seattle on the Kitsap peninsula. Take the Bainbridge Island Ferry from Seattle, then drive 7 miles north (on highway 305) until you cross the Agate Pass bridge; the casino is immediately on your left.
Limit hold 'em: 4/8 and 6/12.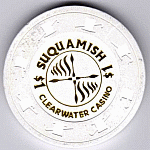 Rake: 10% to $3 max, plus jackpot rake of $1 if pot hits $10.
Blinds: standard.
Posting: New players need not post.
Shuffling: All tables have standard Shufflemaster shuffling machines.
Game Character: A bunch of friendly regulars frequent the place during the week. Don't know about weekends, but it probably livens up a bit. Less rocky than you might expect given that nearly everyone there is a regular retiree off gambling and chatting for a little fun.
Wait Time: Varies based on time of day, but not too long at most times (0-20 minutes).
Tournaments
Edit
Every day 11:30am: NLHE $20+$5, 2x$5 rb.
Wed 6pm: NLHE $20+$5, 2x$20 rb
Jackpots and Promotions
Edit
Standard Washington Monte Carlo jackpots.
An additional progressive "Daily Double" jackpot pays when a single player hits two Monte Carlos in one day.
Atmosphere
Edit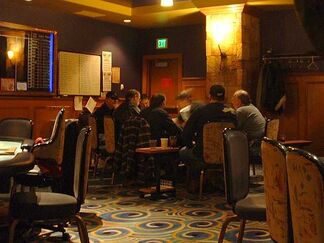 A serviceable if not spectacular poker room in a large standard casino. Located next to the Keno room, it's nicely removed from the hustle and bustle of the casino at large, leading to a mellow and quiet environment. Three LCD TVs are hung on the wall with their volume turned off.
Neighborhood: Located in a somewhat remote (but not hard to reach) area in the middle of the forest literally overlooking the lovely Agate Passage (a waterway between the Kitsap peninsula and Bainbridge Island). Not much in the way of other businesses until you reach Winslow on the coast, 7 miles south.
Parking: Lots and lots of parking, as is standard at a larger casino like this.
Tables and Chairs: 9-seat tables with decent though slightly worn felt and decent vinyl rail padding. Clean commit line. Fixed-leg, vinyl-covered, padded chairs.
Service and Comps
Edit
The seclusion of the poker room from the casino at large works against you on the level of service: waitresses are few and far between, but do arrive to serve standard casino drinks, and also full meals available. Don't know about comps, though.
Visited by MarkT in Jun 2006.
Community content is available under
CC-BY-SA
unless otherwise noted.