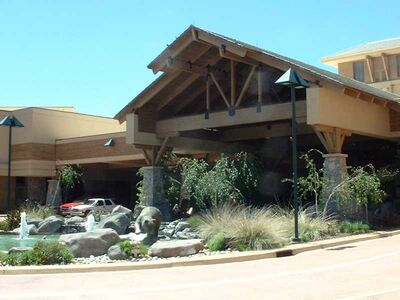 Limit hold 'em: 2/4, 3/6 with a full kill
No-limit hold 'em: 2/4 blinds, 100-200 buyin. Only spread when there's enough interest, and there often isn't except for busy Friday and Saturday nights.
Rake: The rake on all games is similar to Vegas percentage rakes: $1 for every $10 in the pot, max $4. Plus an additional $1 jackpot rake.
Blinds on 2/4 it's standard; on 3/6 the blinds are 1/3.
Posting: New players need not post.
Shuffling: Shufflemaster shuffling machines on all tables.
Kill: Killer acts last on preflop betting round.
Game Character: Often loose and wacky, perhaps because it's located inside the bar.
Wait Time: Can be quite long, anywhere from 5 minutes to 60 minutes. But they announce your name over the casino PA system, so you can leave the room and go play blackjack or slots while you wait; when they announce your name you have a few minutes to get into the (easily found) room and claim your seat.
Tournaments
Edit
No regular tournaments.
Jackpots and Promotions
Edit
Bad Beat Jackpot: Quads or better beaten = $18000
Atmosphere
Edit
The poker room at Chukchansi is purely a "squeezed in wherever we can find room" scenario, despite taking time to "market" it as the "Three Peaks Poker Room". In 2006, the poker room was basically a bunch of tables grouped around inside the Firehouse Blues bar and grill. In 2007, they have now moved the tables to the back of the Half Dome theater. The main thrust of Chukchansi is slots, slots, slots, and poker is an afterthought.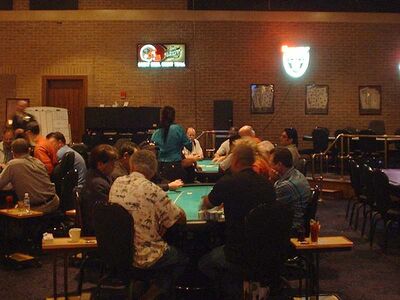 The brush runs the board up against one wall, and announces seats over the casino PA. The wait varies greatly based on time of day and game choice. The room fills up completely on weekend nights, but has only one or two tables running in the mornings.
Neighborhood: Right on Hwy 41, north of Fresno. The highway is already climbing into the Sierra mountains by the time you reach Coarsegold, and Chukchansi is simultaneously remote and accessible. Gorgeous area, where the view is more of the starry sky than the fields.
Parking: A huge parking lot adjacent can hold a thousand cars or so.
Tables and Chairs: Standard 9-player tables, with nice clean felt with a clean commit line and nice vinyl padding on the armrails. Roll-up wheeled drink/food tables. Comfy fixed-leg chairs.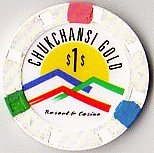 Service and Comps
Edit
Both drink and food service available; the poker tables are located inside the bar, so as you can imagine there's plenty of drink and bar food available. You can eat and drink while at the table.
A (free) soda is fairly small, though, probably 8 ounce glasses.
Links and Notes
Edit
Community content is available under
CC-BY-SA
unless otherwise noted.