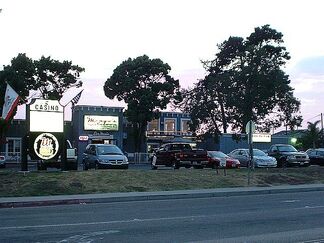 Located at 4th and Grand, a major street corner of Grover Beach. Take the 4th Street exit from US 101 and drive on down.
Limit hold 'em: 3/6, 3/6 with a kill, 4/8, 4/8 with a half kill, 6/12 with a kill (on Fridays only)
Wait Time: highly variable due to small number of tables.
Rake: $4 per pot.
Posting: New players need not post.
Shuffling: Both tables have standard Shufflemaster shuffling machines.
New setups are only used if a player asks for one - there is no regular deck change schedule.
Tournaments
Edit
Tue 10am: NLHE $20 buyin
Sat 10am: NLHE $10 buyin
Jackpots and Promotions
Edit
Daily High Hand jackpot: $50 ($100 on Thursdays)
Bad Beat Jackpot (AAA22 or better beaten by quads or better): $2200 in late Jul 2006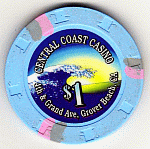 Atmosphere
Edit
Connected to a large, rambling bar/restaurant called Mongo's, though there is a door between the two establishments that is usually kept closed (except when someone needs to use the bathroom), which keeps the sounds of karaoke night blissfully muted for us poker players.
The interior of the poker room is absolutely gorgeous. An old fashioned room with high ceilings and a fake interior railing that looks like "balconies for the buildings looking down on the town square you're in". Windows and fake buildings painted on the upper ceiling walls add to the cool ambience. Nice ceiling fans and suspended spotlights that keep players cool but well-lit.
A large LCD TV is hung on the wall for players to watch while they play if you like. A comfy leather sofa is next to the window at the front door for you to wait on while waiting for a seat. A third unused poker table is pushed up against the wall - maybe it's for tournaments? It seems to be normally unused, since it's covered with newspapers.
A fun place to play poker, and very pleasant surroundings, too.
Tables and Chairs: 10-seat tables with nice felt and vinyl. Fixed leg chairs with nice cloth padding.
Parking: Decent amount of parking in the combined restaurant/bar/casino parking lot.
Smoking: No smoking allowed in the building under California law.
Service and Comps
Edit
Occasional service from the waitresses who wander through the poker room from the restaurant/bar every now and then. No discount for seated players.
Self-serve snacks, coffee, and water, and also a self-serve soda fountain, right next to the tables. All are free for seated players.
Links and Notes
Edit
CCC-GB has an entry in the "Virtual SLO" website (Virtual San Luis Obispo County) here complete with a virtual tour (like the kind of thing you get on some online real estate sites) of the inside of the card room!
This casino is part of a chain owned by a former WSOP champion. The chain includes Central Coast Casino, Paso Robles
Visited by MarkT in Jul 2006.
Community content is available under
CC-BY-SA
unless otherwise noted.