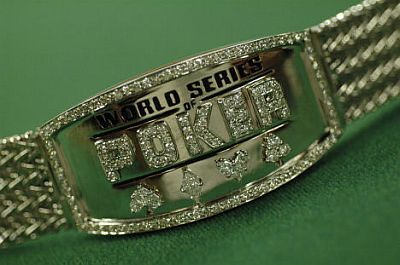 The bracelet is the most coveted award in poker.
A literal bracelet is awarded to the player who wins the top spot in one of the events at the World Series of Poker. The most coveted bracelet is the one for winning the Main Event, but all the events at the WSOP award bracelets as part of their top prize, and all are considered to be significant prizes, indicating particular prowess at the game.
The physical bracelet itself is a heavy metal chain bracelet with a metal plaque that lists the year and event won.
Champion players don't often wear their bracelets (but some do, especially when competing in the WSOP itself), but all players keep count of the number of bracelets they've won. Indeed, the most widely-recounted measure of a poker player's success is the number of bracelets he or she has won.
The all-time bracelet leader position is currently held by Phil Hellmuth, who won his 11th bracelet in the 2007 WSOP, to take the lead over Johnny Chan and Doyle Brunson who each have 10 bracelets. Johnny and Doyle both won their tenth bracelet in 2005, to break a three way tie with Phil, who won his tenth in 2006 to catch up, and his eleventh in 2007 to pull into the lead.
In fourth place are Johnny Moss, with 8 bracelets and Erik Seidel. Billy Baxter has 7 bracelets
Links