We're Getting Mutants in the MCU - The Loop
Play Sound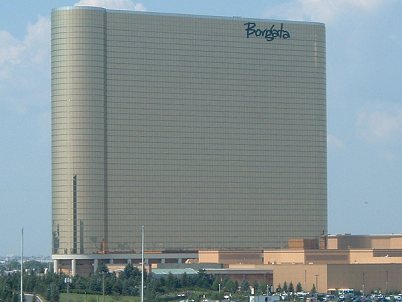 The Borgata Hotel Casino & Spa is the home of Atlantic City's premier poker room with 85 tables spread across 21,500 square feet. The atmosphere is generally more upscale than its main rival, the Taj Mahal, and the clientele tends to be younger. The new poker room opened on June 30, 2006 as part of phase 1 ($200 million) of a half-billion dollar development.
All tables are equipped with automatic shufflers set slightly below table level at an angle to the dealer. LCD screens are also set in to the table next to the dealer but are not currently functional. The original plan was for the LCDs to display game info, log player info and provide waitress call service but those plans were scrapped.
Multiple flat panel televisions are set near the ceilings displaying a wide variety of sporting/entertainment options. However, due to the height of the ceilings, the screens are not very viewable.
The majority (58) of the tables are located in the main room. There is a separate annex High Limit Room (18 tables) holding games at the $40/80 LHE and 5/10 NLHE level and above. There is also a smaller, also separate annex (9 tables) designed for end-stage tournament play equipped with bleachers-style chair seating for audience viewing.
The old poker room, located below the ground level, contained 35 tables and was converted in the Amphora Lounge for Borgata premium card members.
Getting there
The Borgata is located in the Marina district of Atlantic City, just off the AC-Brigantine connector, and very easy to spot on the Marina skyline. Follow the Purple Marina signs.
From the AC Expressway, just as the Expressway ends you will see a sign for "Exit 1" on the right. Take this exit, follow it for a few minutes, through the tunnel.
NOTE: after passing through a tunnel on the Connector, do NOT take the exit marked "Uptown - Casinos" (on two lines). This sign looks like it may be referring to Casinos and Uptown as separate items, and the Borgata is certainly a casino, although not an "Uptown Casino". Instead of taking this exit remain on the Connector and follow the arrow to Borgata, and you should get there fine.
Basically, stay to your right on the initial split and AFTER that you will see signs for the Borgata on the left.
There are valet parking, garage parking and surface lot parking options. All cost $5.00. The Surface Lot is the closest parking option for the poker room by far, but it is outdoors.
Games spread
During the weekend, one can expect to find the following games being spread:
$2/4
$3/6
$4/8
$10/20
$20/40
$40/80
$100/200
$200/400
$1-2 ($60 min; $300 max) -- always plenty of tables
$2-5 ($100 min; $500 max)
$5-10 ($300 min; $2000 max) *it changed to 500 min/2000 max in late October
$10-20 ($1000 min; $5000 max)
$10-25 ($2500 min, no max)
$25-50 -- runs rarely on weekends, but common (or bigger) during tournaments
Tournaments
Borgata has a nice tournament setup.
Tournament Hotline: 609-317-7412
Note: Even though the tourney desk (and the tournement tables) are at the back right, I noticed the tournament buy in is at the chip purchase counter (about 30 feet on the LEFT as you walk into the room). They now have 2 people taking tourney registrations vs 1 from the old room. It does make a difference!
Daily Tourneys
-- please see the note at the end of the 75k guaranteed info (look for ***) about taxes and chopping --
The weekday tourneys are the best. 11am & 7pm start Sun-Thurs. They change frequently from format and buy in, which is nice to see. They really update their events based on feedback. It is NO LONGER a fixed buy in + one optional add-on after the first hour. It is now a single buy in for more chips (10k). the events runs much better.
Usually 11am is $100+20 and 7pm is $150+30.
11am tourneys get from 100-150 people. They last anywhere from 4pm -6pm. I have seen one 130 man MTT chop 8 ways at 5pm ($1100 per person) and another 95 man MTT end at 5pm.
Wed are 20k guaranteed. Friday is 75k at 3pm I think.
Fridays and Saturdays are higher buy in's at different times and change often so see the site for details.
75k Guaranteed Fridays
The Friday 12 noon ($300+40 buy-in) is a 75k guaranteed event. 10k start chips and 30 minute levels. I've seen the pool get as high as $140k, and they typically get 400+ entrants. This past Friday (holiday) they cut the list at 620 people and started 11 at a table x 55 tables. They had still 150+ who got locked out. I suggest you sign up by 10:00am before the line gets too long as you can easily be an alternate or locked out. The 620 entrant event ended at 8:30pm with 14 people chopping $9900 apiece. This happens A LOT as anyone collecting under $10,000 does not get it reported to the IRS nor does the Casino withhold 25% for Fed taxes ***. Expect this to happen in most of the Friday events.
A side note, the cash table list got 2 hrs long as the room was packed solid. It thinned out near 3pm when the tourney tables dropped by a few dozen so don't plan on sitting down right away at a cash table on Friday's between 11am and 2pm.
*** Note as of March 2008 taxes are reported (but not withheld at the Casino) for PROFIT of 5k or more.. So for a $340 buy in, if you get PAID over $5340 it will get reported. So either these events will chop 20+ ways, or it won't chop at all as taxes need to be factored in. So it makes no sense to chop for 6k if the next person to out gets paid $4500.
Sit and Go
It's nice to see this at the Borgata. The Taj did this for quite some time, but they only paid the winner (if I remember right).
See the Sit and Go page for the info. They run daily from 30+12 all the way to 1000+40. All S&Gs pay top 3 now (as of 3/19/08). Chops are allowed. 15 minute levels.
The $30, $60 and $100 S&G's run ALL the time starting about 12 noon, once the MTT starts. They run all day long. You get 2k chips (3k in the $100) and it's really not much harder than any online S&G. You just need to catch some cards and go all in. They only run 1 table of each level at a time.
Tip: Be aggressive by level 3 (100-200), raising to 600-800.
Major Events
See the Poker Section of the website for info on the large buy in events and specials (like the WPT and Super Satellites events) at the Borgata.
Cash Game Insights
Overall you will get a group of good players during the week, and only 2-3 loose fish on the 1-2NL tables. On the weekend you can expect 3-4; and 1 or 2 fish on the 2-5NL tables. Play tight and let 'em bet into you on the weekend. During the week you need to play aggressive against the right players.
$1/2 NL: Most popular game. At most tables, about 50% of the hands are $2 limps, and about 25% are raises to 6-10. Another 25% are raised to 15 (rarely 20+). Good mix of loose/aggressive players. If you are having trouble reading your table or have too many preflop raisers to $20, swap tables. You can find up to 10 of these table on the weekday, more on the weekend. I've seen tables with consistent $15 PF raises, and some with 80% hands limped to the flop. Pick your poison.
$2/5 NL: Expect to sit with $500 and prepare for preflop raises to $35 or higher, and post flop bets of $70+. Be sure to drink your Ovaltine before playing this one. There are a lot of seasoned players here. Stick to 1/2 NL if you play less than one per month.
$2/4: Typical $2/4 game with lots of first timers and otherwise casual players, even during the day. At least 6 to most flops. It is impossible to beat the rake at these stakes.
$3/6: Markedly tougher during the afternoon, based on observations on an August Monday and Wednesday. Average 3 to the flop, fairly observant opponents. The game seemed to get better in the evening both days PhilipR played in it -- more experienced players than the $2/4, some more skilled, some not skilled, and 4-5 to most flops.
$10/20: Still many many callers around. You'd think it was $3/$6 the way a preflop raise to $40 was instantly called. All in all if you have the cash, you'll gain as much a % here as you would at 3/6 or 6/12, so why not win more $? **Please note that this advice is good on the weekend, during the week the game is decidedly tougher, tighter, and harder to beat.
$high limit: Fun to watch, more fun to play if ya got 5k burning a hole in your pocket.
Rake and Time Collection
The following levels are raked at the standard Atlantic City rate of 10% up to $4:
Limit Holdem
NL Holdem
The remaining games collect a time charge every half hour as follows:
Limit Holdem
$10/20 - $5
$20/40 - $7
$40/80 - $8
$80/160 - $10
NL Holdem
Time pots are frequently collected for the time collection games. For a time pot, someone initially puts up the time money for all the players. The first two pots that reach a certain amount, the winner of each of them pays half (or a certain amount depending on number of players participating in the time pot) of what is owed to the player that put up the time. For example, in $20/40, a player will put up $70 (10 x $7). The first two pots that reach $200, the winner of each pays $35 to the player that put up the time. The non-winners end up paying nothing for the half hour. The exact details are negotiable at the table.
Bad Beat Jackpot
In addition to the normal house rake, the Borgata also removes $1 from each $20 pot for the Bad Beat Jackpot. The Bad Beat Jackpot applies only to the game of Texas Hold'Em only. "Bad Beat" means a high ranking poker hand that is beat by a higher ranking hand (e.g., Four Deuces losing to Four Nines). In order for a hand to be eligible to qualify for a Bad Beat, the pot must meet a minimum of $20. A minimum of four players must be seated and dealt in at the beginning of the hand in order to qualify for the Bad Beat. To qualify for the Bad Beat Jackpot, a player must have four Deuces or better beaten. If the winning or losing player has made a Four-of-a-Kind, that player must have a pocket pair to qualify (example: if a player has four Eights, he/she must have a pocket pair of Eights with two Eights on the board). Both the winning and losing hands must use both of their hole cards to create the highest possible hand.
Wait time
You can sign up for table at 3 main desks, on the right at the entrance, back right at the tourney desk, and the far back (hi limit area). There are also a few small koisks which the floor folks can use to sign you up if you catch one.
With the near tripling to 85 tables, the number of games at each level that can be spread has also increased dramatically. So while there are more players, people are called from the wait list at a dramatically faster pace compared to the old room. Due to the room capacity, staff will often just open a new table (except on the busiest peak weekends evenings when there isn't room) if there are enough people on the list. Many games will even have open seating on weekends when previously there were hour long waitlists.
Comps
REMEMBER TO SWIPE OUT AFTER YOUR PLAY or you will not get credit.
A My Borgata card is required to acquire comps. The sign up process is fairly straightforward and quick requiring only a valid ID with address. The My Borgata card comes in three flavors: Red, Black, and Titanium with Red being the basic level and Black being a premium one that is granted automtically after certain play levels (e.g. after earning 1000 comp dollars in a 12 month period), special promotions, or as a consideration for premium card holders from other casino properties. The Titanium Card is reserved for invite-only high rollers.
Comps are in line with standard AC rates:
$0.50/hr at $2/4
$1.00/hr at $3/6, $4/8, $1/2NL
$2.00/hr at most other games
$4.00/hr at 10/25NL
Note, comp $ are discounted at 50% when using them in the Cafeteria and the gift shop, etc. So $30 in comps are only good for $15 in fast food. This is because Borgata does not own the restaurants in the cafeteria. Comp $ are 100% at Borgata buffet, near the Homestead Steakhouse. At $14.50 pp for breakfast, it's a good deal for your comp $.
Tracking of comp points is completely computerized and requires you to check in AND check out with the poker staff to record points. This contrasts with tables games which require an initial sign in or the Tropicana poker room where cards are scanned by staff with a portable reader at regular intervals.
Usage of comp points is also computerized and requires no special interaction with Borgata staff to spend points. The card is simply used as a credit card (with proper ID required) at restaurants and retail establishments.
Comp point status can be checked at any slot machine by inserting your My Borgata card or via the Borgata's website, theBorgata.com. Comp points must be used or they will expire after 180 days.
Poker Room Rates
Off-Peak Season (Non-summer rates)
Sunday - Thursday Poker Rate = $100
Friday, Saturday Poker Rate = $125
Official procedure is to make a reservation by phone and ask for the poker room rate. However, only a limited number of rooms are offered, if at all.
Simply asking the poker room staff for a room on the day-of is also an option, but this is even more of a gamble as there will frequently be no rooms available at peak times.
Beverage Service (Incomplete)
The Borgata Babes (as the cocktail waitresses are officially called) provide beverage service and generally acknowledged to be the most attractive servers in Atlantic City. The vast majority are women, but there are a number of men among the staff. Dressed in a designer black uniforms, they are the frequent targets of over-confident players.
The Borgata serves a wide range of alcohol and non-alcoholic beverages to playing guests. Some of the options (besides mixed drinks) include:
Bottled Beer
Budweiser
Heineken
Miller Lite
Corona
Draft Beer (served in glass)
Premium Liquors
Johnny Walker Black
Ketel One
Non-alcoholic
Red Bull (High-Limit Room only)
Hot Chocolate
Milk
Juice (Pineapple, Orange, Grapefruit, Tomato)
Coffee
Black Tea
Other
Cash does not play on no-limit tables. (It might at 10-25nl and 25-50nl)
Some find their cocktail waitresses "Very hot"; others opine that this is true "if you like trashy big haired New Jersey girls. (It helps if you are a Bon Jovi fan.)"

The dealers are generally very fast and mostly competent.

Food is not allowed at poker tables, except in the high limit room.

Parking is $5.00, and unlike some other casinos is not waived for entry-level affinity card (Borgata Red) members. Be sure to retain your receipt for same-day visits either to the Borgata or to other AC casinos; the receipt retains its validity until 6:00 am the following day. (E.g., a receipt for parking dated Monday 01:00 will be valid until Tuesday 06:00). The surface parking lot is much closer to the poker room than the parking garage, but it is not covered.
The last-aggresor rule for showdown of hands. Last person to make a bet or raise is the first person to showdown a hand when called. However, the dealer will show the cards of any player who is in the showdown if requested to do so by any other player at the table.
In a split pot, the extra chip is decided by the suit (reverse alphabetical) of the higher of the hole cards. However, occasionally dealers have been observed giving the extra chip to the player to the left of the button in hold 'em, as would be standard in most rooms. Generally the odd chip is given by button-method in the main poker room and tournaments, and is given by suit of cards in the high limit room.
Major tournaments include:

Borgata Open (WPT) (Sept)
Borgata Winter Open (WPT) (Jan)
Borgata Summer Open (July)
Chip colors / designs
All 9 chips in 1 pic:
Main colors are legally mandated AC standard, with distinctive secondary colors and geometric designs:
$1 - white/aqua
$2.50 - pink/white
$5 - red/yellow
$10 - blue/orange (for use in $40/80 and 10/20NL)
$20 - yellow/red (for use in $80/160)
$25 - green/gray
$100 - black/fuschia
$500 - purple/yellow (oversize)
$1000 - orange/black (oversize)
See [1] for additional chip images.
Archived discussions

This is an unformatted link from a discussion site such as Two Plus Two. Feel free to format the link, possibly using a template like Template:2p2 title or similar, and add other content as needed.

[2] [3] [4] [5] [6] [7] [8]
---
---