Jurassic World: Dominion Dominates Fandom Wikis - The Loop
Play Sound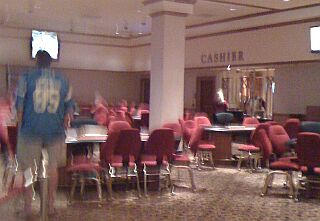 One of the three major Indian casinos in the San Diego area, Barona is located north of the city of El Cajon (a San Diego suburb). It's relatively easy to get to, and located on a two-lane county highway in a mostly-agricultural area. The casino itself is very large and well-laid out. The poker room is located in/adjacent to the food court area, nicely separated from the main casino floor (and conveniently near a lot of food!).
Games
1/2 blinds, 20-60 buyin
1/3 blinds, 100-300 buyin
2/5 blinds, 300-1000 buyin (occasional)
Wait Time: Variable, but there is almost always a seat available. Lower stakes games are spread earlier in the day, and higher stakes arrive later.
Game Nature: Mostly regulars, some of whom are tricky, but most of whom are rocky and steady. Mostly retirees and such.
Rake: $3 + $1 jackpot for every pot. No flop, no drop.
Posting: New players do not need to post to enter a game.
Shuffling: All tables have Shufflemaster machines installed.
Kills: Killer acts last.
Tournaments
Sun 6:30 pm - NLHE
Mon 6:30 pm - NLHE
Tue 6:30 pm - NLHE
Wed 6:30 pm - NLHE
Sat 10:00 am - NLHE
Jackpots and Promotions
Aces cracked = $100 bonus
Bad beat jackpot: Aces full of tens, beat. Jackpot at $11000 in July 2009.
Random other promotions throughout the year ("spin the wheel", "rack attack", "poker envelopes", etc).
Atmosphere
The Barona poker room is quite a nice place to play. An entirely separate room from the rest of the casino, it's quiet and nicely designed, with nice recessed lighting in the ceiling and plenty of space to walk between the tables. The computerized board can be seen from anywhere in the room, and the 15 flat-screen TV's that adorn the walls let you watch any sports event you like as you play. A separate cashier's cage in the room makes it easy to cash in and out, though chip runners are also available.
Tables and Chairs: Standard 9-seat tables with pretty milk-chocolate-brown felt, black vinyl armrests, and a clean commit line that is rather strictly enforced. The chairs are fabulous: wheeled legs, nice red cushy felt over nice padding, and lumbar support. Nice rollup tables for food and drink; no cups allowed on table.
Parking: Tons of parking in the adjacent parking garage structure. Valet parking is also available for a fee (2 or 3 dollars).
Smoking: No smoking in the poker room and since it's a separate room, no real drift comes in from the rest of the casino.
Service and Comps
Fairly frequent service from waitresses who can bring food and drinks. Food can come either from the food court outside or from the casino kitchen. Comp dollars earned at the table can be used to buy food from the servers. You can also use comps to defray the cost of the expansive and expensive Barona Buffet (now around $21, though casino regulars said it used to be only $5 or so).